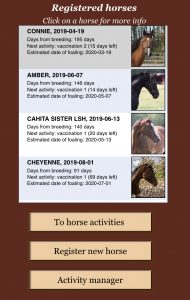 My Mare App is a tool created to help breeders keep track of their brood mares during pregnancy. We are new with this type of work and look forward to getting feedback from users, but we believe this will be a useful tool for all breeders of horses.
To find the app in Appstore seach for My Mare App, and in Google Play, seach for mymareapp.
The app calculates and displays the estimated due date for the birth of the foal based on an average gestation period. The app can also send notifications of when to do ultrasounds, vaccinations or other activities of choice.
Features:
Displays estimated due date
Displays amount of days since breeding
Displays a chosen picture of your mare

Displays the name of the stallion chosen for your mare
Displays activities and sends notifications and reminders for ultra sounds, vaccinations or other activities individual for each mare.


My Mare App is intended for use only as a foaling date estimation tool for horses, and it can also help the breeder by sending notifications for activities such as ultrasound and vaccinations chosen by the breeder.

My Mare App is not responsible for problems or injuries arising from the use/misuse of this tool or for any inaccuracy in the foaling date estimate of an individual horse.

The average gestations length for mares ranges from 320 to 362 days and most mares will foal within 330 to 345 days of succesful breeding. However, mares have successfully foaled with other gestation lengths.

In My Mare App we use 335 days for a gestation period in our calculations.

Never hesitate to contact your veterinarian if you have questions concering your mares pregnancy and we hope you will find My Mare App useful.

For suggestions of improvement please send me an e-mail elin@lundgren-sporthorses.com